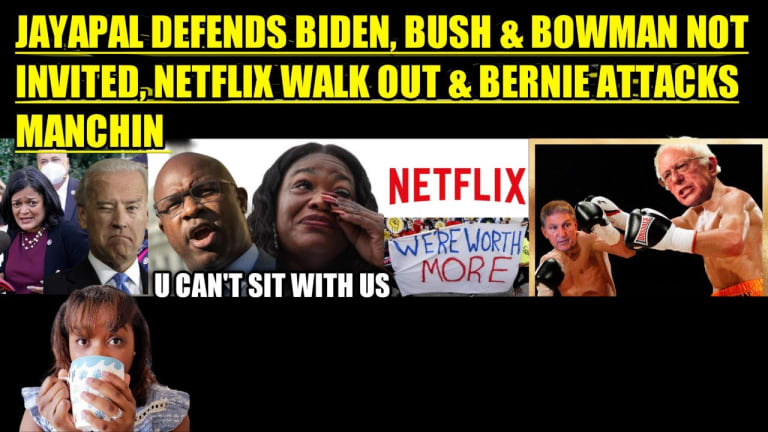 JAYAPAL DEFENDS BIDEN, BUSH & BOWMAN NOT INVITED, NETFLIX WALK OUT & BERNIE ATTACKS MANCHIN
Pramila Jayapal is defending Joe Biden, Cori Bush and Jamaal Bowman are left out and Bernie Sanders attacks Joe Manchin.
Pramila Jayapal is defending Joe Biden in a recent interview, despite Biden cancelling his campaign promises, many of which were progressive policies. After months of disappointment from leftists in the United States about Joe Biden's performance, Jayapal seems to believe he is still doing a great job. What does Sabby think about Jayapal's defense of Joe Biden and should we still consider Jayapal to be a progressive politician?
In a recent interview, Cori Bush and Jamaal Bowman express being left out of progressive policy proposals and claim they are not given a seat at the table. Is there favoritism among some members of the squad like AOC? Why are some politicians being brought into these discussion with Joe Biden and others are ignored? Are there racial biases about this as well? 
Netflix employees stage a walk-out over Dave Chappelle's new comedy special. Employees are angered by some of the comments Dave made about the trans community. Will Netflix remove the special? Is Dave Chappelle cancelled?
Bernie Sanders comes after Joe Manchin over his refusal to vote for the current Infrastructure bill. Manchin has stated he is against the dollar amounts in the bill, even after Dems have reduced the price tag. Will Manchin give in or will Dems have to go back to the drawing board?
Sabby dives into these stories in this news segment.