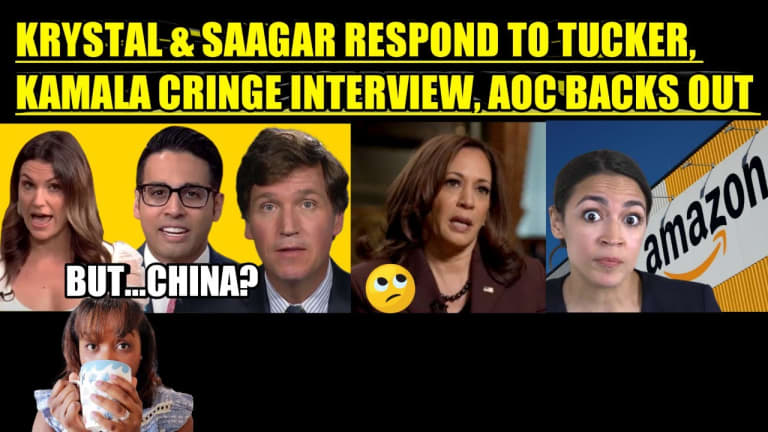 KRYSTAL & SAAGAR RESPOND TO TUCKER CARLSON, KAMALA CRINGE INTERVIEW, AOC BACKS OUT
Krystal Ball and Saagar Enjeti respond to Tucker Carlson's cringe interview, Kamala Harris stumbles during Face the Nation interview and AOC backs out of Amazon protest.
Breaking Points hosts Krystal Ball and Saagar Enjeti respond to a recent interview on Tucker Carlson's show. Jesse Kelly advocates for war against China in the most grotesque way and explains the type of military he would like to see in the United States. Saager and Krystal criticize his take on going to war with China and the problems with the United States military right now. But are the focusing on the most important issues with the United States military? What does Sabby think are the most pressing issues with the United States military?
Kamala Harris has another interview, this time with Face the Nation. After being questioned about student loan debt and immigration, Kamala's responses don't actually answer the questions. Does the Biden administration actually have a plan to resolve these issues? Are Democrats in trouble for 2022 and 2024 if they do not resolve the most important issues to the American people?
Status Coup has been covering the Amazon protests in NYC, led by activist Chris Smalls. Representative Alexandria Ocasio-Cortez was scheduled to support the protest. But what happened to her? Why was she a no-show and how do Amazon protesters feel about it?
Sabby dives into these stories in this news segment.