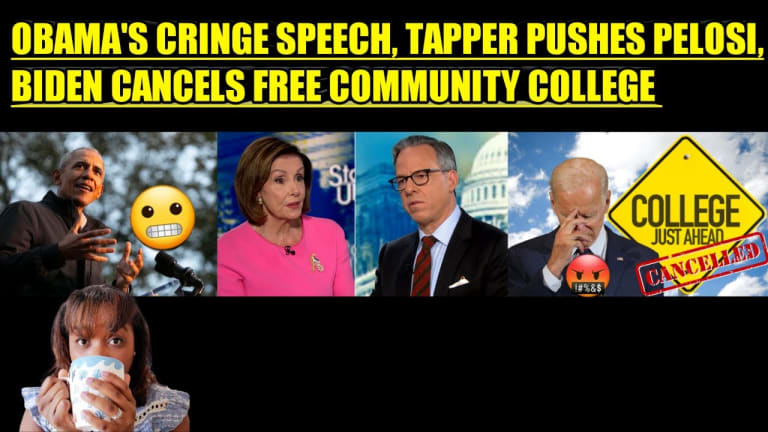 OBAMA'S CRINGE SPEECH, TAPPER PUSHES PELOSI & BIDEN CUTS FREE COMMUNITY COLLEGE
Barack Obama gives voters a cringe speech, Jake Tapper confronts Nancy Pelosi and Joe Biden removes free community college from Build Back Better.
Barack Obama is back again! There are two gubernatorial elections that Democrats are trying to maintain, Virginia and New Jersey. Obama has come up to rallies in both states to promote the Democrat candidates. He makes the mistake of pretending the policies he didn't accomplish are still great because the American people got something...but those are crumbs. Will Obama's presence increase voter turnout for the Democratic party? Or will it backfire?
Jake Tapper interviews Nancy Pelosi about Build Back Better, Joe Biden's performance and her future as a congresswoman. Pelosi continues to applaud Joe Biden and is confident that Build Back Better will be passed, even if that means some items may be removed from the bill. Is Pelosi being honest about the current Biden administration and the current state of US economy?
Joe Biden has removed free community college from the Build Back Better bill. This move has disappointed the younger generation and proving that once again, young people are not being served by the United States government. During a time when a precedent number of young people are struggling with student loan debt, the response by the Biden administration is to remove the one item that help prevent future student debt. Is the future concerning younger generations?