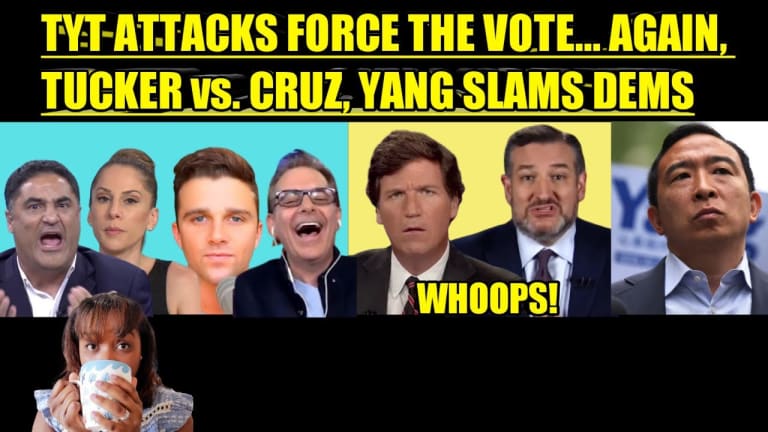 TYT ATTACKS FORCE THE VOTE...AGAIN, TUCKER CARLSON vs. TED CRUZ, ANDREW YANG SLAMS DEMS
The Young Turks smear Force the Vote again, Tucker Carlson confronts Ted Cruz and Andrew Yang calls out the Democratic Party.
It's been a year since AOC and other progressives in Congress were asked to force the vote for Medicare for All by refusing to vote for Nancy Pelosi as speaker, unless she brought Medicare for All to the house floor for a vote. Leftist commentator Jackson Hinkle, has holds a Force the Vote Anniversary stream and once again TYT decides to smear efforts to hold the squad accountable. Why did TYT refuse to join Force the Vote efforts? Did they mislead viewers about the consequences of forcing the vote? Why would they attack an event that had over 1 million viewers and included hosts such as Briahna Joy Gray, Dr. Cornel West, Jimmy Dore, Kyle Kulinski and Justin Jackson?
Tucker Carlson is not happy with Ted Cruz's recent comments about the events on January 6, 2021 and decides to call him out on it. What did Ted Cruz say that got Tucker Carlson so bothered?
After announcing he left the Democratic party, Andrew Yang has had interviews explaining the problems with the two party system. Recently, he had a string of tweets criticizing the Democratic party. What did Andrew Yang say this time and is it in good faith?
Sabby dives into these stories in this news segment.