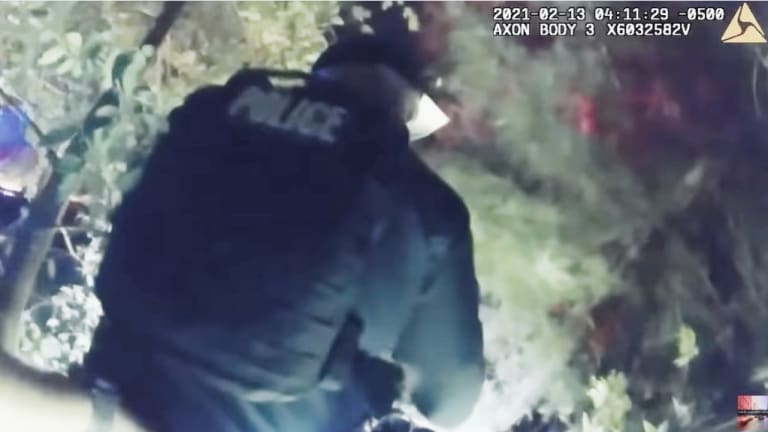 WATCH: Florida Cops Kill Three Kids in High-Speed Chase — Cover it Up
Homestead cops break department's no-chase policy, kill three kids — engage in an elaborate cover up.
Video footage recently obtained by independent media outlet True Homestead shows how Homestead police officers broke their department's no-pursuit policy during a chase that ended with a fatal crash that killed three kids, including a former Homestead police officer's granddaughter.

Officers at the scene did nothing to save lives.

After the incident, records show the officers involved covered their tracks.

But why?

It could be because the Homestead Police Department has a no-chase policy when it comes to high-speed chases.

The newly obtained video shows officers recklessly chasing after a 15-year-old driver on two separate occasions, which ended up killing everyone in the car except for the driver.

When they finally caught up to 15-year-old Pablo Guitierrez, officers ended up allowing him to walk away from the scene due to improperly interrogating a minor, so his statements would have not been admissible, according to the Homestead Police Department.

That meant Guiterrez would simply walk away after being responsible for the deaths of three people killed in the crash, which many would argue only resulted from the officers' persistent disregard for their department's non-pursuit policy.

However, a year later in March 2022, the wheels of justice took a turn, and Guitierrez was arrested after a statement he made while police had a wiretap on his phone.

Statements made by Guitierrez in the police report shows a lack of remorse for his actions. Those statements would ultimately lead to his arrest. 
But it's not the lack of remorse from Guitierrez or his delayed arrest that makes this case interesting: what ensued immediately after the wreckage was a failed cover-up leading to Homestead police finally arresting their suspect fifteen months later — one day after True Homestead posted an update about the incident.
Timeline
It all started on February 13, 2021 during the early morning after officers engaged in two separate pursuits of the same vehicle being driven by Pablo Guitierrez.

Guitierrez, 15, had stolen his mother's car, picked up some friends, and was supposedly headed to another friends' house before the fatal crash.

All of the passengers were 16 or younger. 

Contact between Gutierrez and law enforcement first began at around 3:20 a.m. when Homestead cop Belinda Ramirez observed a dark-colored vehicle cutting off a Homestead police cruiser. Officers attempted to pull over the vehicle, but the driver sped away.

Then, about an hour later at around 4:01 a.m., after picking up his friends, officer Ryan Khawly spotted the same vehicle and pursued Guitierrez, but Gutierrez fled again, speeding off before cutting off his headlights.
A few minutes later at 4:04 a.m. officers pulled over another car that matched the description.
But the people in that vehicle were not the same people from the previous vehicle. However, they advised that they had just heard a loud bang in the 2900 block of East Palm Drive, according to the police report.
The Crash Scene, a Missed Opportunity to Save Lives
When police arrived at the East Palm Drive location given by the driver mistaken for the suspect, they found a car submerged in water.

But even as they verbally identify bodies in the water, none of the officers ever attempt any life-saving measures even though they were the ones who initiated the chase.

"When the officer involved in the first chase arrived, she sounded like she had just gotten to a party, ready to mingle," Homestead activist Dr. James Eric McDonough told True Blue News.

"Not to mention that one officer walking away knew how bad it was, and commented to himself 'Holy F-ck'."
Failing One of Their Own
One of the three minors killed in the crash happens to be the granddaughter of retired Homestead police officer Edgar Rivera.

"And they lied directly to his face and other family members," Dr. McDonough explained during an interview with TBN. 
"He was permanently retired on disability, after taking a bullet in the neck, defending the residents of Homestead, and this is the treatment his family receives from them: a bunch of lies and an illegal cover up." 

According to Dr. McDonough, given the department's response and fact that three young lives were lost, the case hasn't garnered the media attention or justice it deserves. 

"It was only the work of True Homestead and former Homestead Police Captain Booby Rea, as to why this is still even news."

Rea, a former Captain with the Homestead Police Department, first wrote about the incident on his news site Police and Politics after True Homestead obtained the video. 
Lawsuit Filed to Find Truth
In the video, which was only obtained after Dr. McDonough filed a lawsuit, officers can be heard identifying several bodies floating in the water. But, again, none of them make any attempts to retrieve the victims or render any aid to possible survivors.
So the goal has been "helping the family find truth, justice, and closure," McDonough told True Blue News.
True Homestead still has not obtained all of the records related to the case. However, the lawsuit filed by Dr. McDonough is aimed at obtaining more records in the interest of transparency.

Department Backlash and Misuse of Department Resources
The current evidence demonstrates that officers continued chasing a suspect, despite their department policy. And when their actions led to a fatal crash, officers failed to act or render aid to three victims — all who were minors. 
"And worse . . . they then illegally covered it up and lied directly to the families including [to] a former Homestead officer," McDonough explained.

The Homestead Police Department has received backlash on social media from McDonough's Facebook page, True Homestead.

"But not what it deserves."

McDonough says he runs the page like a local news outlet.

"It's my hobby. I post about local issues. If we're slow, we'll post something non-local. But I dedicate the page to primarily local topics that impact our community."
Department Response
The Homestead Police Department is fighting back by posting on the department's Facebook page, but they're not being very smart about it.

In response to the backlash, Captain Yanko Rodriguez, who McDonough says is colluding with Captain Wright and Sergeant Khawly, posted a video in which Homestead officers appear to be helping children at a preschool called B.R.I.C.K.S Early Learning Center to the Homestead Police Department's Facebook page.

The video, essentially propaganda showing the police department helping children when they actually never attempted to help the children who needed help, poses a conflict of interest, Dr. McDonough says.

"This appears to be a blatant misuse of the department's resources to promote Rodriguez's wife's business because B.R.I.C.K.S. is partially-owned by Rodriguez's wife, who is also the sister of officer Khawly, as well as Khawly's father."
The department's response is not just bad timing. It's a truly flagrant example of abuse. The video shows Homestead officer Captain Rodriguez using City resources (the departments Facebook page) to promote his family business. It also, as McDonough points out, at the same time propagandizes children to paint his department in a different light: one that protects children.
And we can see from the videos obtained by True Homestead that not much could be further from the truth.