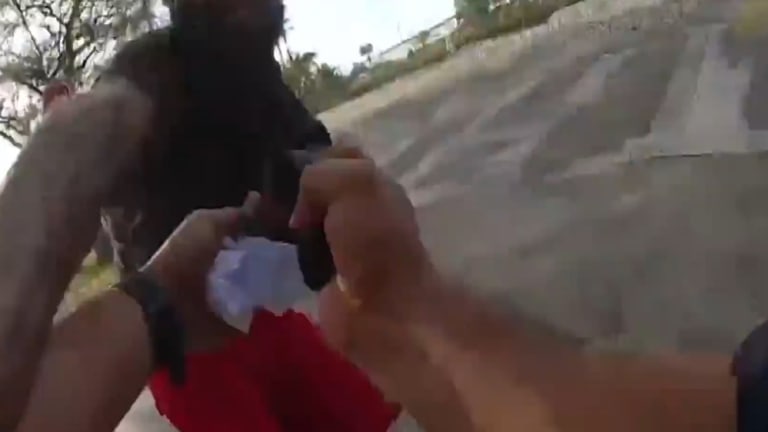 Miami Cop Shoots Unarmed Man in the Head During Deadly Traffic Stop
Miami police training instructor shoots unarmed black Antwon Cooper man during traffic stop.
It's been more than a month since a Miami cop arrived on the scene and killed Antwon Cooper by shooting him in the head. 

The Miami Police Department says Cooper had a gun and posed a deadly threat.
It happened during a traffic stop near Northwestern Senior High School last month. Video shows Gonzalez police officer conducting a traffic stop on Cooper and searching him before yelling "gun" during the pat-down.  

But the video doesn't show a gun. 
Instead, the video shows Gonzalez holding onto Cooper's shirt as a chaotic struggle ensues before a single gunshot is heard.

Eventually, Gonzalez grabs the cap covering Cooper's dreadlocks from behind to stop him from fleeing. That's when Gonzalez's body camera apparently falls to the ground but continues to record. 
During this short scuffle, another officer, Constant Rosemond, arrives on the scene and fires his weapon, killing Cooper. Video footage doesn't clearly show the shooting, but you can hear the distinct sound of gunfire of Rosemond's gun.

Miami police shared a photo of a Sigfried Armory pistol on the ground, taken about 15 feet away from the shooting.
The Florida Department of Law Enforcement and the Miami Police Department have met with Cooper's family members, according to the Miami Herald. Although the FDLE investigates all police shootings, neither agency has commented about details of the incident. 

Cooper's family members expressed outrage after watching body camera footage of the shooting. They have since hired civil rights attorneys Frank T. Allen and Rawsi Williams and plan on filing a wrongful death claim.
Allen, the attorney representing the family, gave a statement saying there was no reason for the officer to resort to deadly force against Cooper during the traffic stop. 

"He [Cooper] wasn't brandishing a weapon or pointing one. He wasn't punching of kicking or hitting. He was pulling away trying to free himself," Allen told the Herald. 
Helen Bryant, Cooper's grandmother said her grandson was killed like "some kind of animal."

"You know my heart is just aching right now. I want him [the officer] accounted for, locked up and in prison. Not jail, in prison. I can't hug him [Cooper] no more and I can't see him no more.
According to his LinkedIn page, Constant Rosemond is a Police Training Instructor at the Miami Police Department.
Family members intend to celebrate Cooper's 35th birthday this Sunday.