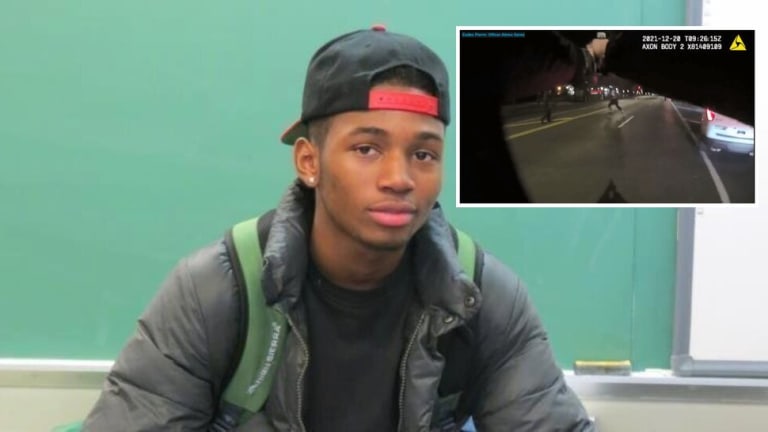 New York Attorney General Releases Bodycam Footage from Deadly NYPD Shooting in December
New York Police Department tried to disarm a knife-wielding citizen in a subway, but new body camera footage shows that officers were unsuccessful - leaving a young Black man dead.
Multiple body camera and security camera footage from a deadly shooting involving NYPD officers in December was released yesterday by Attorney General Letitia James' office.
On the morning of December 20, 2021, officers responded to a 911 call reporting a man with a gun and a knife in the neighborhood of 1090 Eastern Pkwy. in Crown Heights.
Most of the details given by NYPD in their investigations are confirmed by newly available video evidence.
The body camera film begins in the metro station, where multiple police can be seen attempting to deescalate the situation by urging Eudes Pierre to put his knife down. Pierre was repeatedly stunned with a taser, but it did not work.
Officers swiftly exit the subway and ascend the stairwell.
Meanwhile, officers on the street continue to call down the stairwell in an attempt to get Pierre to put down the knife.
After the officers failed to persuade Pierre to drop the firearm, he was able to make it up one of the stairwells and onto the sidewalk.
Just minutes before cops shot Pierre, Officer Lan could be heard noting that Pierre was pretending to clutch something with his right hand.
"And it was at this point that he ran, literally ran, at one of the officers with a knife in his hand," Assistant Chief Michael Kemper explained in a previous press statement, according to AMNY.
Officers then fired ten shots, according to preliminary investigations.
Officer Lan then takes Pierre's knife from his grip and handcuffs him.
"Try to get him aid," Officer Lan said as he was handcuffing Pierre.
While Pierre is gasping for air, the officers search him for any more weapons or drugs.
It took two minutes and twenty seconds from shooting Pierre to rendering aid. An ambulance didn't arrive for another ten minutes.
Pierre was taken to Kings County Hospital, where he was pronounced dead a short time afterwards.
In the days following the incident, officers stated that Pierre was the one who placed the call, that he had no gun, and that he was trying a "suicide-by-cop," according to AMNY.
Initially, the NYPD reported that two cops used tasers and two officers discharged their guns.
Officers also claim to have discovered a suicide note at his home, which they had previously visited to prevent other suicide attempts.
Both Pierre's family and their attorney, Sanford Rubenstein, first questioned the police' assertions and demanded that all body camera footage be released immediately.
Rubenstein welcomed the attorney general's candor in sharing the tape and allowing the family to examine it before it was made public, but he cautioned that no judgments could be drawn at this time.
"The attorney general showed us that footage before they released it, and we appreciate the transparency of the New York State Attorney General in giving the family that courtesy. Until the investigation is complete, it's just pieces that have to be put together, and the family feels strongly this was a wrongful killing, and they have confidence that the Attorney General will do a fair and impartial investigation."
The tape released did not offer enough details to corroborate that Pierre was trying a suicide-by-cop, because it's unclear whether Pierre was holding the knife while running, according to Rubenstein.
"At this point, there's no video that I've seen that actually shows close up what really happened here in terms of the confrontation of the NYPD with this mentally ill man. And until this video is available, then all we have is some video which does not actually show close-up the shooting to determine if this police officer or the other police officer had reasonable cause to fire and kill."
Pierre was a senior at the College of Staten Island at the time, and he was just a few credits away from graduating. He also played basketball for the college squad as a forward.
Pierre was delivering for Uber Eats at the time of the incident, according to his mother Marguerite Jolivert, who said in December that he was in the center of it.
Pierre had a history of mental illness and suicide attempts, according to Jolivert, who feels that instead of armed officers, mental health counselors should have responded.
According to previous press statements:
"Follow-up investigation revealed that this incident now appears to be a 'suicide by cop' situation. NYPD records indicate responses to two attempted suicides by the same individual prior to yesterday's events."
The idea and support of reallocating funds and "defunding" the police has become a hot topic across America as the number of police-involved shootings continues to rise, as True Blue News highlighted last week.
The Behavioral Health Emergency Assistance Response Division (B-HEARD) team is a Harlem-based experimental program that began in November 2021. It is designed to take the place of police officers who are equipped with mental health counselors and paramedics who are trained to respond to mental health crisis calls. Regrettably, data suggests that the calls were still being directed to the NYPD.
A petition to change this was started in the aim of passing the "Eudes Pierre Law." It has nearly 16,000 signatures as of now.
The family is considering bringing a civil suit against the city, but they are waiting for the attorney general's investigation to be completed before making a decision.