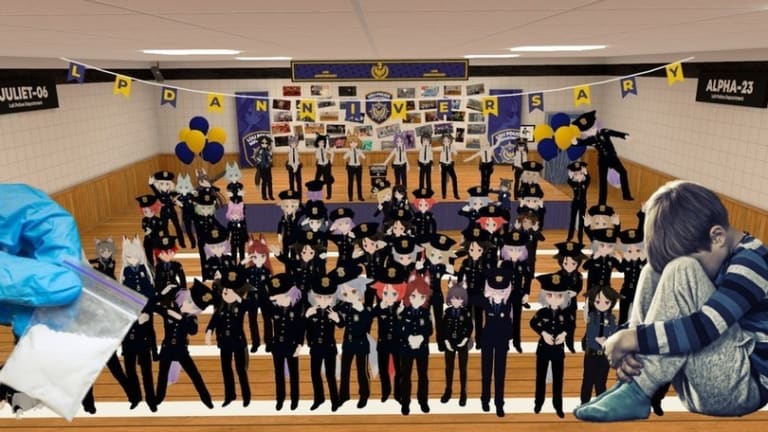 Virtual Cops Can be Just as Corrupt as Real Cops Thanks to Virtual Reality
You can be anyone and do numerous things online that you can't do in real life, such as illegally detain, frame the innocent, and arrest those who haven't done anything wrong.
According to Futurism, this is exactly what users are doing in the metaverse platform VRChat.
These users have nicknamed themselves the Loli Police Department (LPD). Loli is an internet slang term for sexualized female anime characters who are under the age of 18. The "officers" portray underage female anime characters as their avatars.
These virtual reality officers roleplay by roaming around various worlds and harassing gamers on the platform, just like actual corrupt officers do. Unlike in the real world, these officers have acknowledged planting evidence to make false arrests.
"I can pull out a bag of weed and make it look like it came out of someone's pocket," Karet, an LPD captain from Texas, told the Input Magazine. "They always say it's not theirs."
"We have two-hour patrols where we break up into squads, go out into the world of VRChat, and interact with people to start roleplays," a Scottish computer science student who participates in the weird roleplay told Input. Jura is a sergeant in the LPD and even runs a training program for recruits."
LPD claims that whenever there is a surge in media coverage of police misconduct, there is a spike in violence and hatred directed at them.
"We absolutely get abuse," another LPD member told Input. "Especially when there's police violence going on in the US. We get a lot more people responding and saying curse words to us, like 'Fuck the police.'"
They set up a Discord server with the intention of forming a community where individuals may participate in a fantasy version of police work. They keep track of their movements and rankings in multiple chat rooms. It has over 11,000 members, with thousands of them active at any given time, and over 4.4 thousand Twitter followers.
The group was formed as a prank in 2018, according to Input Magazine,
On one hand, utilizing loli photos is problematic since it allows genuine law enforcement to engage in questionable activities. On the other hand, it's ironic considering thousands of officers have been arrested for child pornography, according to Google.
"The primary news information source was the Google News search engine using 48 automated Google Alerts. Data are analyzed on 548 arrest cases in the years 2005-2007 of 398 officers employed by 328 nonfederal law enforcement agencies located in 265 counties and independent cities in 43 states and the District of Columbia. Findings indicate that police sexual misconduct includes serious forms of sex-related crime and that victims of sex-related police crime are typically younger than 18 years of age," according to a Bowling Green State University study in 2014.
Contact your local Department of Justice office if you suspect an officer of participating in a sex-related police offense, especially with a minor.