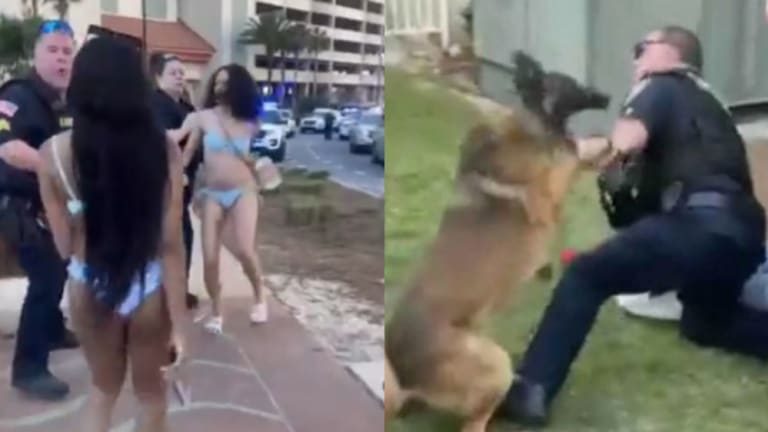 WATCH: K-9 with Sixth Sense Bites Cop Brutalizing Spring Break Patrons
Police K-9 hailed a hero on social media for de-escalating spring break situation — by biting his handler.
A video originally posted on Twitter is now going viral on social media. It shows a K-9 police officer brutally detaining an innocent bystander during spring break 2022.

The dog seems to sense the man had done nothing wrong — and begins biting his handler who happens to be wearing a uniform. 

The incident occurred in Panama City Beach, Florida where many patrons have descended on the Florida hotspot during Spring Break, according to TooFab.com.
Video footage uploaded earlier this week on True Blue News doesn't show specifically what led up to the situation. It shows a K-9 Unit officer screaming at a group of spring break partiers in a parking lot. The officer appears to be using the dog to get them to leave while another cop arrests a bikini-clad woman.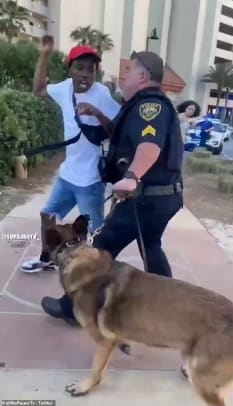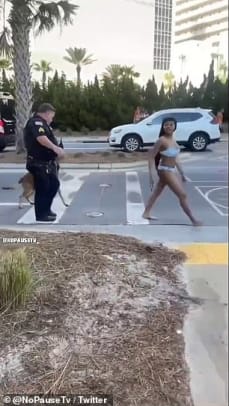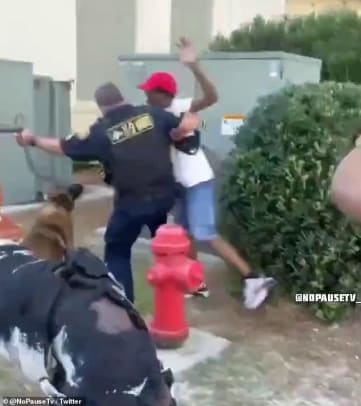 As the officer screams at the woman wearing a bikini, a man wearing a red baseball cap begins to intervene while the woman storms away. But the cop in the video begins pursuing the young man, who holds his hands in the air and tries to walk away. 
That's when the cop suddenly grabs the man as he holds his hands up again before he's thrown om the ground as eyewitnesses nearby insist the young man didn't do anything wrong. 

The dog apparently agrees and bites the officer. 

"Oh, my God. He's biting him," one witness yells. 

"He's biting his ass."
The video then shows a female officer conducting an arrest on the woman in the bikini when another officer then blitzes in to assist the officer as the dog obeys his command to "heel."

Camera footage cuts away as the K-9 cop moves back with his dog while another officer detains the young man on the ground. 

In another video of a separate incident, officers can be seen unleashing at least one drug K-9 on the town's beach on the same day Panama City Beach Police reportedly confiscated 75 illegal guns, and arrested 160 people over the weekend, according to Daily Mail.

"These guns were taken over a period of two days," Panama City Beach Police Chief J.R. Talamantez told the Panama City News Herald.

"'It could arm a small army. Semiautomatic weapons, long rifles. These are weapons brought to a resort destination. These are weapons brought to a beach."

Despite the weapons seizures in Panama City, the department reported only one shooting during the weekend's festivities. 

No injuries were reported about anyone seen in the video.