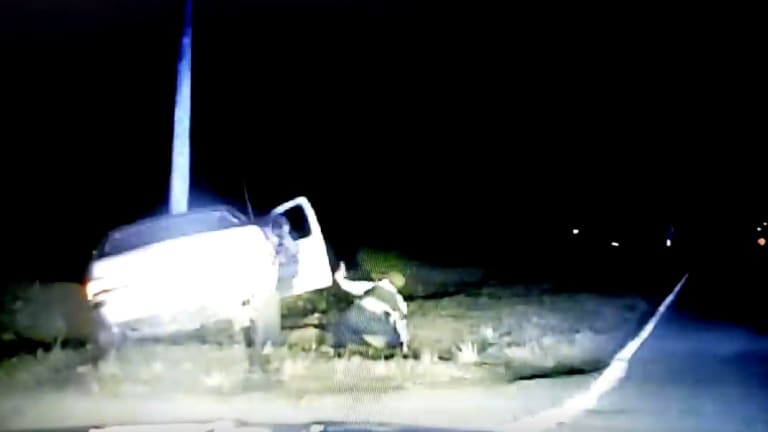 WATCH: SC Cop Trips Before Shooting Unarmed Driver During Traffic Stop
A South Carolina Cop falls to the ground before shooting an unarmed driver who she says she believed was armed.
Dashcam showing Hemingway, South Carolina police officer Cassandra Dollard tripping onto the ground before shooting an unarmed driver was released yesterday.
Dollard, 52, stopped victim, 46-year-old Robert Junior Langley, on February 9, 2022, for allegedly running a stop sign, according to an arrest warrant.


A chase that reached speeds over 100 MPH ensued with Dollard and another officer from Williamsburg County pursuing Langley for about five minutes before he crashes in a ditch against a telephone pole.
As Dollard approaches, she orders Langly to stay in his car while showing his hands.
Langley appears to comply as the video shows both of his hands are clearly visible and sticking out of his car window.
At around the 6:30 mark, Dollard walks around the hood of her car to approach Langley's vehicle.
As she approaches with her weapon brandished, Langley opens the passenger-side door.
Dollard trips and falls, but she continues pointing her gun into the car at Langley.
"Don't you come out of there," Dollard screams at Langley as he tries to exit the vehicle face-first on his stomach.
That's when she shoots him, and Langley falls out of the car and onto the ground near where Dollard tripped.
Langley utters an inaudible in the video, which presumably had something to do with why she shot him.
"You had something in your hand, sir," Dollard can be heard replying.
"Central, be advised, one shot fired, he had something in his hand," Dollard calls into her radio.
As he gasps for air on the ground, Dollars continually questions him about what he was holding in his hands.
However, the South Carolina Law Enforcement Division determined Langley was unarmed.
So it's likely she was simply acting because she thought it would help her like other cops who shoot unarmed civilians and claim they "feared for their lives" because they were holding an imaginary weapon.
Eventually, she calls paramedics to the scene and informs Langley they're on the way, and begins performing CPR.
"There you go, sir, keep breathing for me," she says.
She continually speaks to Langley as she performs chest compressions on him, and later Dollard and another officer confirm he still has a pulse.
Several minutes later, an ambulance arrives, and paramedics strap Langley to a stretcher and load him into the back of the ambulance.
After Langley is loaded into the ambulance, officers at the scene are heard comforting Dollard.
She explained shy she shot Langley from her point of view: claiming she shot him because she thought he had something in his hands.
"I don't know what he had in his hand," she said in the video.
"I just know he had something in his hand."
Sadly, Langley was later pronounced dead at the Tidelands Georgetown Memorial Hospital.
Now, attorneys for Langley's family, are suing, and they blame the Hemingway Police Department for hiring Dollard in the first place.
"It's clear from the video that officer Dollard was out of her depth."
"She never should have been cleared to wear a badge and carry a gun and Robert Junior Langley paid for that with his life," civil rights attorney Bakari Sellers, told Myrtle Beach Online.
Officer Dollard had been fired twice from previous jobs before joining the Hemingway Police Department in 2021.
Previously, she worked for the St. Stephen Police Department for six years before she left the department on her own accord, which is sometimes an option given to officers before they are otherwise terminated.
But those records indicate that before leaving St. Stephen PD, Dollard was fired from her job with the Johnsonville Police Department for "poor performance," records show.
And in September of 2014, Dollard was terminated from her position at the Department of Public Safety for improper conduct "unbecoming of a state employee" and "negligence in the performance of duty."
Three days after the shooting, Dollard was arrested on February 9, 2022, and now faces the charge of involuntary manslaughter.
Langley's mother, Roslyn Brockington, released a statement saying that Dollard killed her son "for nothing."
"When people watch this video, I hope they realize that this isn't just some statistic," she said.
"He was a father, a brother, a son, and they killed him for nothing. They left a hole in our lives and it could happen to anyone," she reminded viewers.
If convicted, Dollard faces up to 30 years in prison.

Watch the VIDEO HERE.