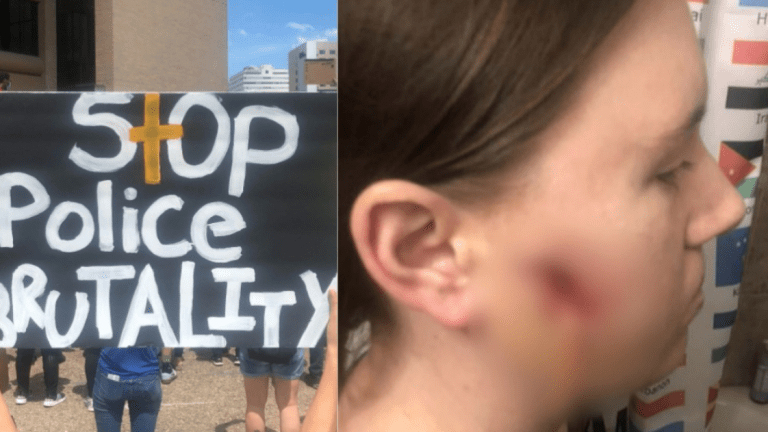 Woman Shot at by 9 cops at Protest Suing for Beanbag Round Embedded in her Face
A Texas woman sues the cops who shot bean bag rounds point blank at her face.
The victim was running away from the police when a total of nine opened fire with bean bag rounds.
A total of 19 Austin, Texas police officers have been indicted for aggravated assault for using so-called "less-than-lethal" rounds for shooting at protestors.
Why do they all shoot?
Could it be so they can't blame it on one officer, since they all did it?
Of 19, the names of nine officers have been identified as Justin Berry, Jeremy Fisher, Joshua Blake, Brett Tableriou, Alexander Lomovstev, Stanley Vick, Christopher Irwin, Todd Gilbertson, and Joshua Jackson, according to KVUE.com.
19 officers charged with aggravated assault, accused of firing weapon during 2020 protests | KVUE - YouTube
Seventeen officers were booked and released on February 21, 2022.
Indicted Austin police officers booked and released | KVUE - YouTube
The victim, Christen Warkoczewski, alleges in her lawsuit that officers fired at and seriously injured her face by shooting her with a bean bag round that later had to be surgically removed.
Her lawyer points out that not only was she hospitalized, she was also required to have surgery to correct serious damage done to her face, and also to repair her broken jaw.
"These are all going to be difficult cases for the District Attorney to prosecute. That doesn't mean they should be prosecuted. It doesn't mean they shouldn't be prosecuted. It just means that it's not the same as prosecuting a car burglary or something else," said attorney Rick Cofer with Cofer and Connelly in Austin.
"Shooting someone in the head while they are demonstrating against police violence, while also running away from officers, cannot be tolerated by any police department," said Jeff Edwards, Warkoczewksi's attorney, in August. "Christen went out that day to be an ally to the Black community and to show that everyone should believe Black lives matter. Instead of respecting her First Amendment rights, the Austin Police Department responded by shooting her in the head and breaking her jaw."
At a February 17 press conference Austin Police Chief Joseph Chacon defended his cops, saying he was "extremely disappointed" to learn about the forthcoming charges.
Chacon, who had been assistant chief during the protests in 2020, described the demonstrations as "riotous and violent." He described bottles, rocks, and fireworks, claiming those items were thrown at police by protestors.
19 Austin police officers indicted in 2020 protests | KVUE - YouTube
Chief Chacon also said management at the Austin Police Department underestimated how many protestors would attend the event and that officers' weapons "did not perform in the manner anticipated," according to Rolling Stone.
Travis County District Attorney Jose Garza, promised to hold police accountable during his run for office.
Garza described the criminal evidence against the officers, suggesting that many of the protesters injured by police at the event were "innocent bystanders" who suffered serious wounds to the "head, face and body."
"We know that the majority of victims were injured by a deadly weapon capable of causing serious bodily injury and death. Some will never fully recover."
"There cannot be trust if there is no accountability when law enforcement breaks the law."
However, days before, Garza dropped the seven charges total against former DPS trooper Austin Johnston, according to KVUE.
Johnston had since resigned from the Texas Department of Public Safety before becoming an agent with the FBI and faced charges ranging from third-degree felonies to first-degrees
Keep an eye on what happens to the cases after the indictments.
So far, Garza's threats to hold officers accountable haven't had any teeth.
So what about police officers in Austin using bean bags against more protestors in the future?
The Austin police department stated they are no longer using the same rounds.