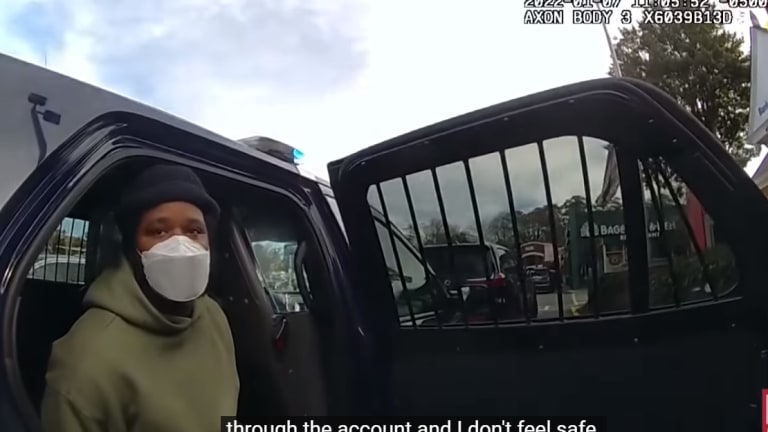 Black Panther Director Ryan Coogler "Mistakenly Arrested" for Robbing Atlanta Bank
Black Panther movie director Ryan Coogler made a simple trip to the bank, but ended up in handcuffs in what police are now saying was a "mistaken arrest."
Movie director Ryan Coogler was momentarily placed under arrest for attempting to withdraw $12,000 from Bank of America. 

It all began after he wrote a request on a piece of paper and handed it to the bank teller. 

"I would like to withdraw $12,000 cash from my checking account. Please do the money counter somewhere else. I'd like to be discreet," Coogler wrote to the bank, according to MSN, wishing to be secretive about the transaction. 
An alarmed bank teller, who happened to be a pregnant, black female, told police that Coogler didn't have his bank card visible or his government ID. When she went to check his account, she allegedly saw a notification alert, then promptly informed her manager that Coogler may have been trying to rob the bank. After being contacted about a bank robbery, officers responded to the scene and eventually stopped Coogler. 
After stopping Coogler's car, the driver informed officers that Coogler was a movie producer and explained that they stopped at the bank to perform a financial transaction. An officer asked the driver to describe Coogler and determined that he matched the same description given for the suspected bank robber by dispatch. The drivers were placed in the back of an APD patrol vehicle and detained as officers then entered the bank to place Coogler in cuffs. 
Many posted online saying Coogler was racially profile. The NAACP concurred.
"The presumption is always that they've done something wrong, he's here to rob us. He can't be here to withdraw money that's his," Richard Rose, President of the Atlanta NAACP branch, said. 
"The first reaction to oppression is resistance, secondly is acknowledgement, third is acceptance. When black people have accepted that whites should be superior and that black folks are doing something wrong all the time, and she succumbed to the same thing," he added.
Coogler's can be heard on body cam expressing his disbelief. 

"What's going on," the officer asks. 

"You're serious? You're really trying to ask me what's happening," Coogler asks. 
"At any given point, did you pass a note," the APD officer asks. 
"Yeah," Coogler replies. 

"Why?" 

"Because I didn't want somebody to know how much money I was taking out; every time I come gout money out I give a note," Coogler explains. 
The Atlanta Police Department later indicated the arrest was a mistake, blaming Bank of America. They also stated "Coogler was never in the wrong and was immediately taken out of handcuffs."
"We deeply regret that this incident occurred. It never should have happened and we have apologized to Mr. Coogler," Bank of America said in a statement. 
Coogler can be heard in the video requesting the officers' involved badge numbers. 
"This situation should never have happened. However, Bank of America worked with me and addressed it to my satisfaction and we have moved on," he told CBS 46.