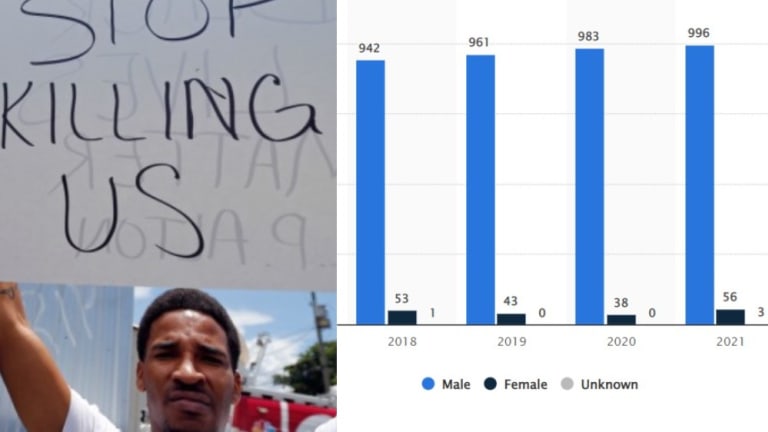 Fatal Shootings by United States Police Rises to 1,055 in 2022
Deaths from U.S. police shootings in 2022 are rose from 1,029 in 2021, and 999 in 2019.
Once again, police in the United States used deadly force to mow down over a thousand of its citizens — many of them unarmed. 

While some experts say the increase is relatively insignificant, others suggest that the public has been conditioned to accept a certain number of deaths caused by police shootings, even if some are entirely avoidable. 

Law professor Franklin Zimring at the University of California at Berkley told the Washington Post that he agreed the rise in fatal police shootings was relatively insignificant, noting that the increase is only 3 percent. 
"The good news: things aren't getting an awful lot worse," Zimring said of the 2021 total. 

"And the very bad news is that they're not getting better either."
Democraphics
Overall demographics of citizens killed by police shootings has been relatively consistent since 2014. 

Ninety-four percent of victims were men. And about fourteen percent had some sort of known mental health issue, down 6 percent from around the 20 percent reported in previous years.  

However, that figure seems curious, especially since mental health issues have reportedly been on the rise since the 2019 pandemic.
Nonetheless, the figure has declined even more from years 2015 and 2016 from about one-fourth. 

This could be due to departments simply reporting less mental illness related fatal shootings, which doesn't really bode well for local departments' image. 

Sixteen percent of citizens fatally shot were killed during domestic-disturbance calls. 

Eleven percent of the 1,055 total lost their lives simply after someone called 911 for things like wellness checks, which often turn out to be anything but. 
To solve the problem of unwarranted or unnecessary death of citizens caused by police, accountability activists around the country have lobbied for officers to be required to wear body cameras. 
Solutions
Even though most major cities have now adopted body cameras, only about 20 pecent of last year's deadly police shootings were caught on camera — the highest percentage since body cameras became a thing. 
Adopting body cameras, though, has not seemed to have impacted the number of deadly shootings caused by police. The lack of any significant change could be caused by officers becoming accustomed to wearing the body cameras. Or they could simply be accustomed to most of their footage never seeing the light of day after its stored anyway. 

Another reason for the low number of shootings caught on body camera is that some departments, most of them even, don't make video footage of shootings caught on body camera available to the media or public. Some departments will fight public records request by media outlets, even when they are subpoenaed or ordered to do so in a lawsuit. 
Obstacles to Solutions
This poses a problem, according to one expert.

"If you know that this will just be inside your service and will not be released unless there's a high-profile incident or a use-of-force complaint, you wouldn't change your behavior," Nusret Sahin, a criminal justice professor at Stockton University, said.
Of the 1,055 people killed by police in 2022, around 1 percent were considered juveniles. 

Police brutality has been a significant issue in the United States since the 18th century.
Statistics, and History
Mostly, Black Americans have been the group most historically marginalized by police and have faced much higher rates of incarceration as well as police shootings and deaths when compared to other ethnic groups. 

Disparities also exist in terms of general treatment by police, depending on one's ethnicity. 

The majority of black Americans think that black and white people don't receive equal treatment.
Over half of white and Hispanic think the same. 

While experts say the numbers for 2022 look unremarkable in terms of change, that does not mean the number of deaths is unchangeable. 

For instance, for January 31, 2022, police in the United States have only shot 13 people to death, according to Statista.com.

If those numbers are correct, it would indicate some real change might be beginning to occur since the figure is down drastically from 2017 when 92 deaths were reported for the month so January. January deaths in 2018 through 2021 were 99, 94, 88 and 79 for 2021. 


However, the more likely explanation for why the number has decreased so drastically is that police are not reporting their fatal shooting statistics to the FBI, or anyone else. 

Most statistics published are accumulated by individuals tediously sleuthing the internet for news reports who later publishing their findings. 

Currently, the FBI has less than a year to find a way to collect accurate use-of-force statistics from thousands of police departments across the country before their efforts to publicize and reform police practices gets shut down, according to a report from the United States Government's Accountability Office, according to CNN.

"Due to insufficient participation from law enforcement agencies, the FBI faces risks that it may not meet the participation thresholds established in Office of Management and Budget's (OMB) terms of clearance for publishing data from the National Use-of-Force Data Collection, and therefore may never publish use of force incident data from the collection. Further, the collection itself may be discontinued as soon as the end of 2022," the report stated.

FBI launched the National Use-of-Force Data Collection program in 2019.

Find laws regarding body camera requirements in your state at the National Conference of State Legislatures.