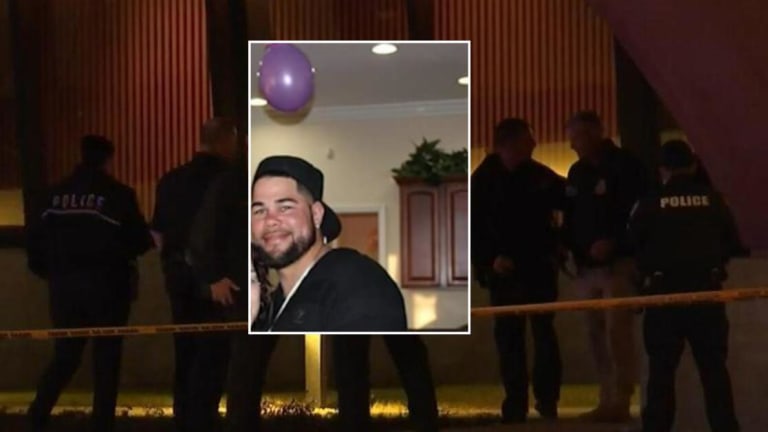 Florida Police Shoot, Kill Man at Wedding Reception after 911 Call
A police-involved shooting at a wedding reception resulted in the death of a guest and blood all over a bridal gown. Victim's family demands video as police stall its release.
The Winter Park Police Department received a 911 call from a member of the wedding's event personnel on February 19, 2022.
According to the 911 call, Daniel Patrick Knight, 39, was allegedly holding an older woman by the neck and shoving her at a wedding reception.
"He's trying to beat people up. He's yelling. He's grabbing an older woman and shoving her," the 911 caller can be heard saying.

"He's grabbing people's necks and, like, it's an older woman. I think it's his mom (Patricia Keeby)."
After officers arrived on the scene at about 9:30 p.m. they promptly got into a physical scuffle with Knight, according to CBS News.
Winter Park police say that that's when Knight began fighting with a responding officer, punching him in the face and knocking him unconscious; and then a second officer involved in the scuffle claims that he used a Taser on Knight. 

But he also claims the Taser had no effect on him.

So, given their version of the story: that the situation involved an unconscious police officer, and an ineffective Taser device, only then did the officer draw his weapon and shoot Knight, causing what wedding guests describe as a bloody scene.

That's the department's version of events, at least.

Conflicting Stories from Witnesses
Knight's family and others disagree with law enforcement's version of events; in fact, maybe more than disagree. They say, based on what they witnessed, that an officer was never knocked out at all, which implies they're claiming the police are lying.
And they might be lying.

But only body cam footage will determine who's lying here.

Knight's family, and others, are demanding that the department release its body camera evidence.

Mayor's Story Contradicts Departments' Narrative
The family of Knight claims police representatives told them that no body camera footage even exists because when police arrived at the wedding, their cameras were malfunctioning.

But Winter Park Mayor Phil Anderson contradicts this statement.
Thus far, the city has not set a date for when the footage will be released, but they are considering making an announcement soon, according to CBS News.
The city has not set a date for when the footage will be released, but they are considering making an announcement sometime soon, according to CBS.
Mayor Anderson claims he has not yet seen video footage of the wedding shooting since elected officials aren't allowed to view body camera footage as part of the inquiry team's investigation.

However, mayors and city council do appoint city managers, who generally have more authority to hire and fire police.
Local Pastor Calls Polices' Actions "Murder"

"There were a lot of allegations . . . made by the Winter Park Police Department . . . that we find unfounded and without merit. We are looking for transparency in this case. We do feel that this was murder," said Pastor Carl Soto, co-founder and vice president of Black Lives Matter Restoration Polk Inc.

Pastor Soto had the opportunity to listen to the 911 call. He said he feels like the caller was agitated with other diners over a minor quarrel and that their assertions were baseless about Knight being combative were baseless accusations.

"We listened to that 911 call. We are in the process of trying to locate this woman who made this call. All the witnesses that I spoke to indicated that (Knight) was not doing anything of that sort," Pastor Soto recalled in an interview with CBS.

"There is a report that this woman may have had a disagreement with one or two of the patrons that were there at the reception, and that may have pissed her off to the point where she felt she needed to call 911."
Family Grieves While Seeking Justice
Meanwhile, as family mourns the loss of Knight, they also have to fight to seek the justice he deserves for his unnecessary death.
"He was such a loving man. He didn't do nothing to me. I asked him to sit me down because my feet were hurting and that's why he hugged me — to sit me down. He didn't do nothing to me. I don't have any bruises. I don't have any scratches,' Patricia Keeby, Knights mother said in a statement.

Unfortunately, for Keeby and her son, Knight died later that night.
Janisha Paul, his niece and the bride, issued the following statement to CBS News:
"He was killed in front of me. His blood was all over my wedding dress," recalled a crying Janisha Paul. "I'm a nurse. I'm a registered nurse. A lot of the guests that were there were also in healthcare. They assisted in doing everything that they could to help him and I wish that he was here."
The Knights are currently looking for an attorney to represent them in civil court.

The family has demanded that the FBI and the Department of Justice take over the investigation and are insisting that the cops implicated be arrested.
If you have any information related to this case or know someone who'd be interested in representing the victim's family, please email Nathan Dimoff @ NathanDimoff1@gmail.com.