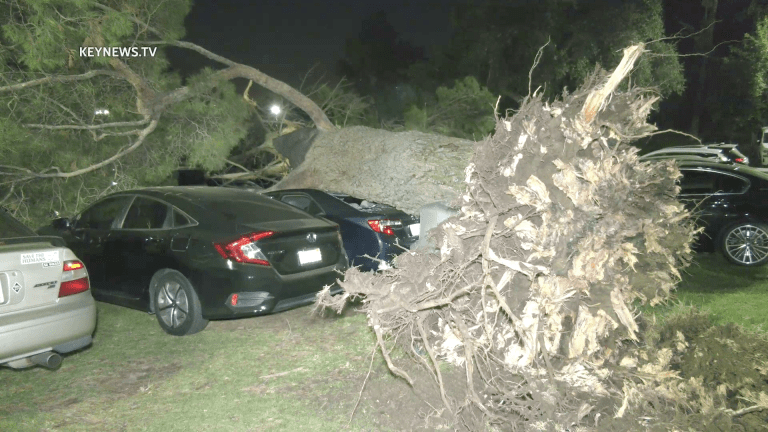 Griffith Park Tree Falls onto Multiple Vehicles Parked for Event
Tree fell in Griffith Park impacting approximately 27 vehicles, damaging around 10, Wednesday night.
Los Angeles: Approximately 27 vehicles were impacted when a large tree fell in Griffith Park around 8:08 p.m. Wednesday, Nov. 3, 2021. The tree was estimated to be 40 to 50 feet tall by park rangers. The first search by park rangers found no persons trapped in any vehicles and one 35-year-old female patient with a lower leg injury, according to the Los Angeles Fire Department. Firefighters on the scene conducted a search to ensure there were no additional patients. The female patient was transported by LAFD to a nearby hospital. It was reported that she was walking when the tree fell.
Chief Joe Losorelli of the Los Angeles City Park Rangers interviewed at the scene, said approximately 27 vehicles were impacted, with around 10 vehicles probably beyond repair. It has not been determined what caused the tree to fall. Losorelli said the forestry division comes out to look at the trees, the older trees, to prevent things like this from happening. He said there will probably be an assessment in the area by the forestry division to try to prevent any future incidents.
Losorelli said it could be an all night situation dismantling the tree and dealing with individuals whose vehicles were impacted by the tree. The show at the Greek Theatre had already started so it was fortunate that there were not that many people in the area when it happened, said Losorelli.